Lincolnshire apprentice scoops prize in the
British Woodworking Federation National Industry awards 2018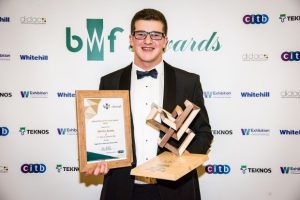 Henry Acres, apprentice at Holbeach-based joinery firm JT Ward, has won the prestigious Apprentice of the Year award sponsored by the CITB at this year's National British Woodworking Federation (BWF) Awards.
Now in their tenth year, The BWF Awards celebrate the best of the best in UK woodworking, recognising technical innovation, design, process efficiencies, health & safety and the rising stars of the industry.
JT Ward Joinery Ltd is a manufacturer of bespoke joinery, including kitchens, bedrooms, staircases, windows and doors. Henry Acres joined the firm in mid-2017 as an apprentice – and hasn't looked back since. The company enrolled him on an NVQ Diploma at the College of West Anglia, where he has completed Level 2 and is now progressing to Level 3.
Helen Hewitt, Chief Executive of BWF who presented the award to Henry, said:
"I'm delighted for both Henry and JT Ward. Henry has shown himself to truly be a star of the future in British joinery and woodworking. It's clear that he has a fantastic attitude to work, along with his high standards of workmanship and skills.
"We received an exceptional number of entries this year, so to come out on top is no mean feat. Our awards are a chance to showcase the talent and professionalism in the industry, and bring people together to celebrate their achievements. This year's awards were a great success once again and underline the huge contribution the woodworking and joinery sector makes to UK industry and manufacturing."
Commenting on his achievement, Henry Acres said: "It means a lot to me to win this award. I'm really proud, and it is a great way to show the company my appreciation for the time, effort and money they have put into my training. We do a lot of different work as a company and this award will be good for business."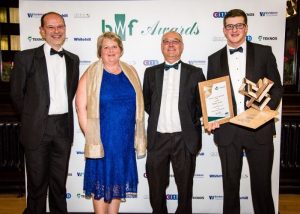 Discussing his career choice, Henry added: "My dad was a carpenter and I've followed in his footsteps. I'd definitely recommend joinery to others as a career – each day is different and I really enjoy it."
Martin Ward, director of JT Ward said: "We have been employing apprentices for over 14 years and we believe that Henry is one of the most conscientious and talented apprentices we've ever had the pleasure to employ. He has become a real asset to our company and we believe he is a rising star of the joinery industry."
---
Stamford Construction Skills & Careers Event 2018.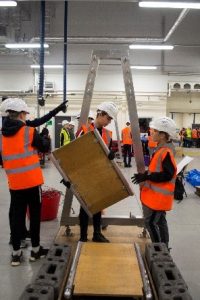 CITB funded South Lincolnshire Group Training Association (SLGTA) teamed up with New College Stamford, along with a wealth of local and regional employers from the construction industry, to offer local school pupils the opportunity to explore a variety of technical, professional and trade career opportunities available within the construction industry.
Nearly 500 school pupils from across the South Lincolnshire region tried their hands at a range of construction skills during the 2 day 'have-a-go' event, designed to inspire young people to take up a career within the construction industry.
Pupils from Yr6 Primary school age upwards took part in activities such as interior design, surveying, eco building design and techniques, straw buildings, earth structures, bridge building, mini diggers, how we build roads along with highways road markings. Plus the more traditional trade skills of plumbing, tiling, electrical, carpentry/joinery and brickwork. To compliment these skills experiences, interactive sessions on Health & Safety equipment testing, First Aid, Fire Safety and Virtual Reality SIM goggles were also all on offer.
Construction & STEM Ambassadors along with industry Apprentices and Full time College Students were all on hand to support each of the School groups throughout the day, providing invaluable insights into their own career pathways and aspirations.
Barbara Mehew PrinceBuild Ltd & Chairman of SLGTA (organisers of the event) stated;
A BIG thank you to all the sponsors of the event, we have received some amazing feedback from the schools who attended this year. The positivity of the whole event underpins Princebuilds' continued commitment to sponsor the event with the awards and trophies. It also demonstrates the value to industry of permitting our current Apprentices time out of their busy schedules to promote Careers in Construction by acting as Construction Ambassadors on both days.
Gary McPartland – Director for Technical and Creative Industries at New College Stamford;
"Over the next five years the construction industry will need to recruit over 220,000 additional people to meet the skills challenge. It is important we sustain the future economy and give young people a taste of the different trades available to them in the professional and technical construction industries. The hugely successful event celebrates the working relationships and collaboration of not only schools and colleges, but local employers, students and tutors who all engage with supporting and delivering activities to the future of our construction workforce.
Steve Taylor – Group Training Officer (SLGTA) commented;
This event, now in its sixth year is a great example of what effective working relationships can achieve.
We have received fantastic support, sponsorship and goodwill from micro businesses through to large employers and of course Further Education providers and training companies. Participation has been as much or as little as the stakeholder could commit to, but through a collaborative approach we have once again provided an excellent experience for children within our region. The best endorsements come from those who attend;
Mrs Zoe Ballard – Stamford Welland Academy (Day 1 Secondary Schools)
Thank you for inviting us to the Construction Skills event last week. The students thoroughly enjoyed the day and it has opened their eyes to the possibilities open to them.
Activity feedback: Highly personable and informative sessions, students learnt so much about Sustainability, Environment, Teamwork & Safety.
Mrs Sarah Nicolson – Deputy Headteacher from John Clare Primary School (Day 2 Primary Schools Yr6)
Thank you so much for coming into school last week and presenting the trophy and medals to the children; we were all absolutely thrilled to have been awarded 'School of the Year'! I would also like to take this opportunity to thank you for all of the organisation of what is such a fantastic event. Our pupils always fully enjoy the day and leave inspired by what opportunities may lie ahead of them in the future.
A big THANKYOU to all our event stakeholders;
New College Stamford for their total commitment to the event, staff and notably their students who gave up their time to be Construction Ambassadors for the event (a credit to themselves and New College)
Construction Industry Training Board for their support of the event and continued funding of the SLGTA
Princebuild Ltd for their generosity in donating medals and trophies, plus allowing Mr Peeby to attend for the second day presentation.
Essential Site Skills for kindly donating 600 Hi-vis vests that each attending student/child was able to keep and take home after the event
Arion Training Ltd, Hill Holt Wood, Cathedral Training, East Midlands Earth Structures Society, Institute of Civil Engineers, LGTA, Lindum Group, PrinceEnergy Ltd, Cambridge Science Centre, Road Safety Markings Association / WJ UK & Jointline Ltd, LincHigher, Morgan Sindall (STEM Ambassador) & JSP Safety Equipment.
---
SLGTA Activity Calendar for 2018 (July – December)
 11.07.18 – Sleaford Schools Career Fair – St Georges Academy Sleaford
 26.07.18 – Regional Group Training Officer meeting – Kegworth
 12.09.18 – Lincoln Construction Week meeting – Lincolnshire Showground
 12.09.18 – Apprenticeships evening – Peele Community College Long Sutton
 20.09.18 – SLGTA Group Meeting – Boston West Golf Club
 20.09.18 – Stamford Construction event planning meeting – New College Stamford
 25.09.18 – Careers Fair Stamford Welland – Stamford
 02-04.10.18 – Lincoln Construction Event – Lincolnshire Showground
 11.10.18 – SLGTA Construction Ambassador Training Day
 17.10.18 – Careers Fair Priory Ruskin – Grantham
 01-02.11.18 – Stamford Construction Skills Event – New College Stamford
 13.11.18 – Careers Fair – Peele Community College Long Sutton
 14.11.18 – Careers Fair –Thomas Clarkson Academy Wisbech
 14.11.18 – CITB Roadshow (half-day) Cambridge
 20.11.18 – Careers Fair – Bourne Academy
 22.11.18 – CITB Roadshow (half-day) East Midlands Castle Donington
 23.11.18 – Midlands Regional Chairs meeting – Northampton
 27.11.18 – Investors in Education Awards (EBP) – Grantham
 28.11.18 – Careers Fair – Spalding Academy
 29.11.18 – CITB National Strategic Funding Event – Kelham Hall Newark
 29.11.18 – Stamford Schools Careers Convention – SES Stamford
 11.12.18 – SLGTA Group meeting – Spalding Golf Club Surfleet
---
SLGTA Activity Calendar for 2018 (uploaded June)
 05.01.18 – Extra-ordinary SLGTA Management meeting
 16.01.18 – Careers fair Haven High Academy Boston (yr10 & yr11)
 18.01.18 – Deeping St James Signal Box Planning meeting NCS Stamford
 23.01.18 – Queen Katherine Academy Peterborough
 29.01.18 – Lincoln Prison Construction Support Session
 31.01.18 – Triton Knoll Meet the Contractor event Boston College
 16.02.18 – Boston Careers & Job Fair Peter Paine Centre Boston
 21.02.18 – Action for Construction Open evening – Kirkby-in-Ashfield Notts
 22.02.18 – Construction Education Forum Bishop Grosseteste Uni Lincoln
 27.02.18 – SLGTA AGM & Group meeting – Boston West Golf Club
 01.03.18 – Meet with Ray Newell Business Lincolnshire Growth Hub Adviser
 05.03.18 – Apprentice / Careers presentation NACRO Boston
 06.03.18 – East Midlands Employer Advisory Forum – Hilton Castle Donnington Derby
 07.03.18 – Apprentice / Careers presentation New College Stamford
 07.03.18 – LGTA Construction Week Meeting / LGTA AGM Lincolnshire Showground
 08.03.18 – New College Stamford Careers Fair
 08.03.18 – Apprenticeship Day Peterborough Regional College
 14.03.18 – Careers & Jobs fair St Georges Academy Sleaford
 28.03.18 – East Midlands World Skills Competition – New College Stamford
 19.04.18 – Employer Support Session (Boston) – Room 101 Ingle Low Centre Boston College
 25.04.18 – Employer Support Session (Stamford) – Conference Room New College Stamford
 26.04.18 – Employer Support Session (Newark) – Newark Showground
 01.05.18 – Spalding Career & Job Fair – The Castle Sports Complex Albion Road Spalding
 16.05.18 – Lincoln Construction Week meeting – Lincolnshire Showground
 30.05.18 – Construction Education Forum Bishop Grosseteste Uni Lincoln
 21.06.18 – Careers Show East of England Showground Peterborough
 28.06.18 – SLGTA Group meeting – Boston West Golf Club
STAMFORD CONSTRUCTION SKILLS EVENT 2017
SLGTA Activity Calendar for 2017
 10.01.17 – Careers fair Haven High Academy Boston (yr10 & yr11)
 17.01.17 – CAGE GN meeting with Howard Platts
 23.01.17 – CITB Training group 'Target setting' for 2017
 25.01.17 – Careers fair Casterton Community College Stamford
 26.01.17 – Industry Day (Yr 8) Casterton Community College Stamford
 03.02.17 – SLGTA Target setting meeting
 06.02.17 – Meet with Becky Cook 'The Skills Service' Peterborough
 09.02.17 – WWT – Questions to construction inspectors event
 09.02.17 – SLGTA AGM & Steering group meeting/ CITB support workshop
 17.02.17 – Boston Careers & Job Fair Peter Paine Centre Boston
 21.03.17 – LGTA Construction Week Planning meeting
 23.02.17 – LGTA AGM & Steering group meeting
 28.02.17 – Boston Construction 2018 – initial planning meeting
 02.03.17 – The Big Debate – Apprenticeships Sleaford
 06.03.17 – Apprentice / Careers presentation Nacro Boston
 08.03.17 – Apprentice / Careers presentation New College Stamford
 09.03.17 – Louth Cordeaux Academy – Careers fair
 09.03.17 – Apprenticeships Fair – Peterborough Regional College
 15.03.17 – East Midlands World Skills Competition – New College Stamford
 21.03.17 – East Midlands Employer Advisory Forum – Everyday Champions Centre Newark
 22.03.17 – The Peele Community College STEM / Careers day 'Engineering for women'
 24.03.17 – The Big Debate – Apprenticeships Lincoln
 29.03.17 – Recruitment Fair – St Georges Academy Sleaford
 04.04.17 – Spalding Career & Job Fair – South Holland Centre Spalding
 06.04.17 – Construction Ambassadors Network event – Lindum Group Offices
 20.04.17 – Employer Support Session – CITB Levy/Training Plans Boston West Golf Club
 21.04.17 – Peterborough Construction Network Lunch – Peterborough Rugby Club
 05.05.17 – Boston Grammar School – Apprenticeship / Careers Presentations
 08.05.17 – Construction Amabassador Training Day – ABAX Stadium Peterborough FC
 18.05.17 – Industry Day (Yr 9) Casterton Community College Stamford
 23.05.17 – CTP Employment Fair (Buildforce – ex military) Newark Showground
 06.06.17 – Midlands Regional Training Groups Chairs meeting (Crick)
 15.06.17 – Sleaford Job fair /LEP event – North Kesteven District Council Offices
 22.06.17 – SLGTA Group Meeting – Boston West Golf Club Hubberts Bridge Boston
 22.06.17 – Employer Support Session (CSCS/CPCS) – Boston
 23.06.17 – Careers Show – East of England Showground Peterborough
 24.06.17 – Boston College 'open day' – Construction Careers
 27.06.17 – Futures Festival – Arthur Mellows Village College Peterborough
 06.06.17 – EBP's Project Lumen Celebration event – Engine Shed Lincoln
 07.07.17 – Lincoln Construction Event Planning meeting – Lincs Showground
 13.07.17 – Group Training Officers Regional meeting – Coventry
 17.07.17 – Careers Fair – Boston Grammar School
 20.07.17 – Meet with The Skills Service Danielle Shaw (South Lincs area representative)
 25.07.17 – North Sea Camp – Network meeting with Emma Wagstaff
 27.07.17 – Launch into Construction Event – Network (Lincoln) DWP
 01.08.17 – Stamford Construction Event Planning meeting (New College)
 08.08.17 – LGTA Steering group meeting Lindum Group Offices
 23.08.17 – Lincolnshire & Rutland Futures – Team Meeting Grantham DWP
 04.09.17 – SLGTA Committee meeting – Bourne
 05.09.17 – Lincoln Construction Event final planning meeting (Lincolnshire Showground)
 14.09.17 – WWT Groundworkers event – Worksop
 26.09.17 – SLGTA Group meeting – Boston West Golf Club Hubberts Bridge Boston
 28.09.17 – Careers Fair Arthur Mellows Village College Glinton Peterborough
 03-05.10.17 – Lincoln Construction Event – Lincolnshire Showground
 10.10.17 – Final planning meeting Stamford Construction Event
 18.10.17 – Careers Fair Thomas Cowley School – Donington Spalding
 20.10.17 – LGTA Steering Group meeting & Construction event debrief
 31.10.17 – Midlands Regional Training Group Chairs Meeting – (Crick)
 03.11.17 – Yr 7 Super Learning Day – The Peele Community College Long Sutton
 09/10.11.17 – Stamford Construction Event 2017 New College
 15.11.17 – Careers Fair – Thomas Clarkson Academy Wisbech
 15.11.17 – Careers Fair – The Peele Community College Long Sutton
 22.11.17 – North Sea Camp Construction Specific sesssion
 23.11.17 – Group Training Officers Regional meeting – Coventry
 23.11.17 – Careers Fair South Kesteven & South Holland – Bourne Academy
 27.11.17 – National Chairs Meeting
 28.11.17 – SLGTA Group meeting – Boston West Golf Club Hubberts Bridge Boston
 29.11.17 – CITB East Midlands Construction Employer Forum – Long Eaton Nottingham
STAMFORD CONSTRUCTION SKILLS EVENT 2016 (updated May 16)
Anyone wishing to assist in supporting or sponsoring this event please contact Steve Taylor directly (07732 360202)
SLGTA Activity Calendar for 2016 (updated April 16)
12.01.16 – CITB Fund Training Workshop Day 1 Queens Hotel City Square Leeds
20.01.16 – Boston Construction Event Planning Meeting
26.01.16 – CITB Training group 'Target setting' for 2015
28.01.16 – CITB Fund Training Workshop Day 2 Village Hotel Tingley Leeds
29.01.16 – 'Your future' careers fair – South Holland Post 16 centre, Spalding
09.02.16 – 'Your future' careers fair – Boston Grammar School, Boston
18.02.16 – LGTA AGM & Steering group meeting
24.02.16 – CAGE GN – The future of construction evening Trent Bridge Nottingham
25.02.16 – SLGTA AGM & Steering group meeting/ Workplace Pensions presenation
26.02.16 – Design Develop Build event South Holland Council & Boston College Spalding
01.03.16 – Meet with Mark Greenhalgh National Federation of Builders Newark
03.03.16 – 'Your future' careers fair – Skegness Academy,
07.03.16 – Boston Construction Event Final Planning meeting Boston College
09.03.16 – Careers/Apprenticeship week event – New College Stamford
16.03.16 – 'Your future' careers fair – Epic Centre, Lincoln,
16.03.16 – Constructionarium Open day National Construction College Bircham Norfolk
20.03.16 – 'Your future' careers fair – The Gainsborough Academy
22/23.03.16 – Boston Construction Skills Event
24.03.16 – LGTA Construction Event planning meeting
12.04.16 – CITB Construction Employer Regional Forum Newark
22.04.16 – New College Stamford Opening of new Construction Centre
19.05.16 – LGTA Steering group meeting
16.06.16 – SLGTA Steering group meeting
16.06.16 – SLGTA 'open' Golf day Spalding Golf Club Surfleet
21.06.16 – Lincoln Christs Hospital Yr10 Interview day
05.07.16 – Yr6 Activities Week (Tetrahedron) – Casterton Business & Enterprise College
07.07.16 – North East Lincolnshire Careers Fair – Grimsby Auditorium
——————————————————-
SLGTA Activity Calendar for 2015
06.01.15 – Apprenticeship Week planning meeting with Boston College
15.01.15 – CITB Training group 'Target setting' for 2015
15.01.15 – Meet with Andrea Russell CITB NCC Sales Representative
21.01.15 – Boston Construction Event Planning Meeting
05.02.15 – LGTA AGM & Steering group meeting
18.02.15 – CAGE GN Open Evening event Beeston Nottingham
25.02.15 – Rutland County College Careers Convention / Fair
26.02.15 – SLGTA AGM & Steering group meeting
03.03.15 – CITB Construction Employer Regional Forum Newark
05.03.15 – Careers Apprenticeship Day New College Stamford
06.03.15 – Boston Construction Event Final Planning meeting
10.03.15 – CITB Building Futures skills summit 2015
12.03.15 – Greater Lincolnshire Apprenticeships Celebration Ceremony Lincoln
13,03.15 – Schools Engagememt Programme – Robert Pattison School Lincoln
19.03.15 – LGTA Construction Event planning meeting
24/25/26.03.15 – Boston Construction Skills Event
27.03.15 – East Midlands Working Well Together meeting Keyworth Leics
09.04.15 – LGTA Steering group meeting
16.04.15 – ITG Chairs meeting Crick
06.05.15 – Building Brilliance Competition Boston College
08.05.15 – Stamford Construction Event – Prelim meeting
11.05.15 – Boston Construction Event 2015 Debrief
12.05.15 – LGTA Construction Event planning meeting
14.05.15 – Notts / Lincs Training Group meeting Newark
04.06.15 – WWT – SHAD Scaffold & Safe Access event Leicester
11.06.15 – SLGTA Steering Group meeting
17.06.15 – Work Based Learning Alliance Communications Meeting
24.06.15 – Schools Engagement Programme – Careers info' Rutland County College
24.06.15 – Stamford Construction Event planning meeting
27.06.15 – Boston 'parkfest'Careers event
16.07.15 – NCC East 2015 Apprentice Awards Bircham Newton
21.07.15 – Schools Engagement Programme – Careers Fair Carre's Grammar School
22.07.15 – Laing O'Rourke Explore Steetley Plant site visit
28.07.15 – LGTA Steering group meeting
03.09.15 – LGTA Construction Event planning meeting
16.09.15 – Stamford Construction Event Final Planning meeting
22.09.15 – Notts / Lincs ITG meeting with CITB/NCC representative
24.09.15 – SLGTA Steering Group meeting / ISO 9001 Quality Management workshop
29/30 Sep & 01 Oct – LGTA Lincoln Construction Week
02.10.15 – Stamford Construction Skills Event – final site meeting The Borderville
08.10.15 – Spalding Grammar School Careers Fair (Yr's 11, 12 & 13)
08/09.10.15 – Stamford Construction Skills Event
13.10.15 – ITG Chairs meeting Crick
14.10.15 – Schools Engagement Programm – Thomas Cowley High School Donington
15.10.15 – Schools Engagement Programme – Deepings School Deeping St James
20.10.15 – CITB Construction Employer Regional Forum Newark
21.10.15 – LGTA Steering Group meeting
21.10.15 – Stamford Event Debrief meeting – The Borderville Sports Cenre
22.10.15 – Schools Engagement Programme – The Priory Ruskin Careers Fair Grantham
03.11.15 – Lincoln Construction Week Debrief meeting – Epic Centre Lincs Showground
04.11.15 – CAGE GN Open evening – Trent Bridge Nottingham
10.11.15 – Notts / Lincs Training Group meeting Newark
10.11.15 – Schools Engagement Programme – William Lovell School Stickney
17/18.11.15 – WBLA Skills Show Butlins Skegness
25.11.15 – Pride of Construction Awards – Natural History Museum London
10.12.15 – SLGTA Steering Group Meeting / ACAS Employment Law update
17.12.15 – LGTA Steering Group Meeting